Australia ENS-3002DC Battery Charge and Discharge Tester manufacturers
Australia ENS-3002DC Battery Charge and Discharge Tester suppliers
Australia Battery Charge and Discharge Tester manufacturers
Product Introduction of ENS-3002DC Battery Charge and Discharge Tester
Still looking for a supplier who specializes in manufacturing Battery Charge and Discharge Tester? E-Nanny has extensive experience in electrical testing, E-Nanny is committed to meeting the needs of global users for electrical testing solutions. We are always proud to help our customers increase efficiency and profitability through our exceptional products and ongoing service. ENS-3002DC Battery Charge and Discharge Tester is a test equipment integrating constant current discharge, intelligent charging and charging and discharging cycles of batteries. It is used for regular battery pack inspection and regeneration and activation of backward batteries. It is used in telecommunication, base station, and electric power sectors, and suitable for testing and cycling activation of various types of traction battery packs such as forklifts, golf carts and trains.
Product Features of ENS-3002DC Battery Charge and Discharge Tester
1) The product uses customized nickel-chromium alloy resistors as the load source. Low resistance value; can achieve a larger current discharge, customized appearance makes the power density higher. High precision; accuracy can be controlled within ±0.001Ω, as a load source to make the discharge process more stable. Low temperature coefficient; little influence by temperature coefficient, strong environmental adaptability. Resistant to current impact; strong current resistance, can quickly respond to large current impacts, and the discharge process is more reliable.
2) Smart chip control. Intelligent control of the discharge process, automatic adjustment following the drop of battery voltage to ensure constant current discharge. The voltage of a single battery is collected in real time and displayed in a curve manner, which is convenient for evaluation and analysis. At the same time, it intelligently analyzes the battery voltage status and makes an evaluation. Intelligently calculate the conversion between the discharge capacity and the discharge hour rate to achieve the best evaluation effect of the battery capacity status. A variety of threshold thresholds can be set, intelligent judgment.
3) 7-inch large LCD touch screen: It adopts a 7-inch large-size bright touch screen with a resolution of 1024x600, which can be clicked directly on the screen. It is simple and clear, with strong anti-interference ability.
4) LORA wireless monomer monitoring module: compatible with 2V/4V/6V/12V single cell monitoring. Each wireless monitoring module can monitor 6 cells at the same time. Compared with the method of monitoring the voltage of one cell per module, the number of modules that need to be configured is only 1/6 (only 4 monitoring modules for 48V), so that the wiring for modules is easier than the old method.
5) Automatic discharge current calculation function: built-in discharge coefficients for each hour rate, which can automatically calculate the discharge current that needs to be set according to the nominal capacity of the battery under test and the required discharge rate.
6) During the process of battery discharging, the voltage of each cell is detected and displayed in real time: the track of each cell voltage histogram is displayed on the host screen, and the data table is supported. It can also automatically display the cell with the highest and lowest voltage in real time to help you quickly analyze the trend of individual changes.
7) Charging function: Automatic charging is carried out strictly according to the battery charging characteristic curve. The designed charging mode is "constant current → (equalizing voltage regulation value) constant voltage and current reducing → (automatic judgment is converted to) trickle floating charging", the instrument has a charging mode. It has the advantages of fast speed, high efficiency of charging and reduction, no need for manual duty, no danger of overcharging when charging for a long time, and ensuring the service life of the battery.
8) Discharge, charge, and activation function: After the battery pack is separated from the system and the discharge and charge parameters are set, the meter starts to work. After the battery pack is discharged, it automatically switches to the charging function without manual operation.
9) Charge&Discharge curve view: The voltage and current curves of the battery pack during the charge&discharge process can be reviewed.
10) Data transfer: The host is configured with U disk for data transfer, and the data analysis software can analyze the data and support report generation.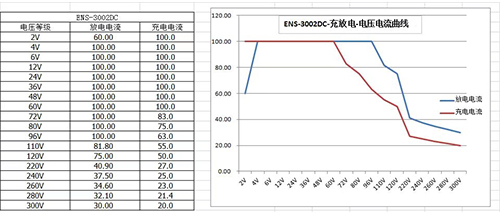 Charge-discharge relationship curve
Technical Specifications of ENS-3002DC Battery Charge and Discharge Tester
Note: we can customize your testers according to your special requirements.
ENS-3002DC Battery Charge and Discharge Tester manufacturers
ENS-3002DC Battery Charge and Discharge Tester suppliers
Battery Charge and Discharge Tester manufacturers